Nautilus Charters
(281) 865-6113
Reef and Pelagic Permitted
Ready for an action-packed adventure on the Purple Chicken?
From 715 North Holiday Drive Galveston Texas
Nautilus Charters is a family-friendly guide service that specializes in inshore and offshore fishing off the coast of Galveston, TX. Captain Matthew West is a born and raised Texas native who's been fishing the Gulf Coast his whole life. He knows where to take his clients to get them hooked up and show them the true meaning of "Everything is bigger down in Texas!"
Capt. Matthew offers seasonal offshore trips and year-round inshore trips. Fishing inside the East, West, and Galveston Bay provide lots of great opportunities for all skill levels. Here, you'll be able to target Redfish, Black Drum, Spotted Seatrout, Flounder, and Jack Crevalle. Further out into the Gulf, you'll start to encounter bigger fish. Red Snapper, Gag Grouper, Amberjack, Cobia, and Kingfish are just some of the likely catches you may reel in.
What You Should Bring
Your own food, drinks, and a valid saltwater fishing license. Welcome aboard!
Target Species
Amberjack
Black Drum
Cobia
Flounder
Types of Fishing
Inshore Fishing
Offshore Fishing
Wreck Fishing
Nearshore Fishing
Reef Fishing
Fishing Techniques
Light Tackle
Bottom Fishing
Jiggling
Heavy Tackle
Trolling
Deap Sea Fishing
Amenities
On board Toliet
GPS
Fish Finder
Live Bait Well
Gear
Rods, Reel, & Tackle
Live Bait
Lures
Catch Cleaning & Fileting
You'll be fishing from a 36' Contender walkaround boat, outfitted with state-of-the-art electronics and fishing amenities. You'll reach the fishing grounds in no time while being propelled by 3 outboard Yamaha engines, totaling 750 HP. This boat is fast, sleek, and spacious with its own private toilet on board. She accommodates up to 6 guests, including kids of all ages, and everyone can fish at the same time without rubbing elbows.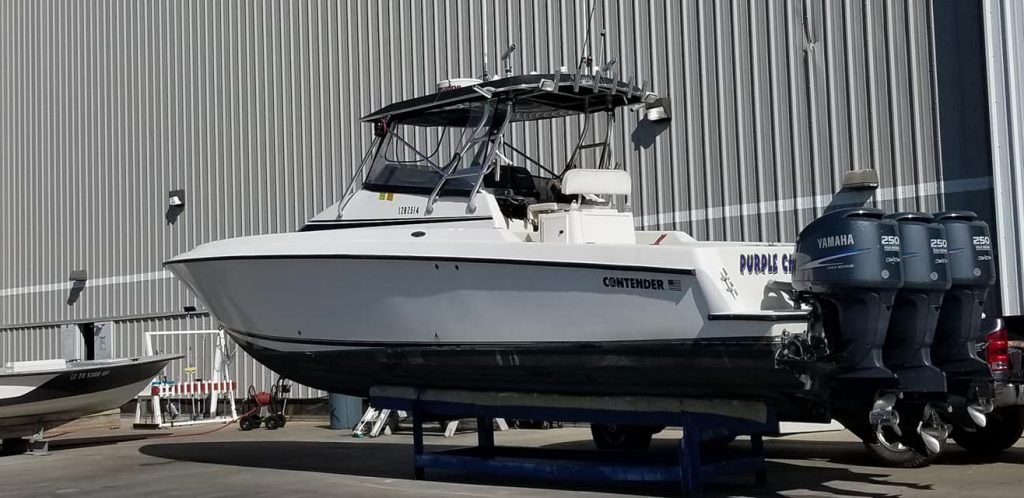 On all trips, you'll have top-of-the-line Penn and Shimano gear at your disposal. Capt. Mathew will also supply the live bait and artificial lures, depending on the technique you choose. Just remember to purchase your fishing license, pack sun protection, and bring snacks and drinks for the ride.
After your trip, you'll be able to taste the fresh catch of the day. Capt. Mathew will offer to clean and fillet whatever you caught so you can take it home and enjoy a delicious meal with the family.
Start planning your next fishing trip today and choose Nautilus Charters as your guide. Your next adventure is only one click away, so pack your bags, invite the family, and get ready to catch some big fish down in Galveston!
Half day trip with Camptain Matt
My two sons, grandson, and myself had a great time on the half day trip with Captain Matt.  Although the winds were high, and the water was rough, he still managed to locate fish for us to catch.  He's extremely knowledgeable about the business and went above and beyond to make sure we had success and a good time.  He was right there beside us constantly handing out bait, rigging up lines that broke, chitchatting with us, and even helping us to catch fish.  He hung a 12 lb red and handed the pole to my 12 year old grandson to land it.  He was so excited!  He was always polite and willing to help anyway he could.  I highly recommend this Captain, you'll have a great time!
–James P.
When can we go back?
That was one of the first questions on the way home…
It's very refreshing to come across someone so knowledgeable of their craft and with a true passion for sharing. It would be hard to ask for a more competent, accommodating, patient, and friendly guide. First time out for us so I did not know what to expect, but when you read "bring license, sunscreen and snacks" it is absolutely right. Captain Matt had everything covered end to end. He was constantly moving to make sure everything was taken care of. He worked tirelessly up and down the boat to make sure lines were constantly in the water. He put us on the fish and all we had to do was reel them in. The boat was more than adequate for the five of us. Everyone had a blast. So glad we went. I personally could not ask for a better experience. My wife, kids, and I are all grateful for the memories. We plan on going again and I know who we will be booking with.
–Trent F.
8 hour tripe with Capt West
Great day of fishing although really rough which Capt Matt did his best to make pleasurable. He said he. OUPD put us on snapper and he did exactly that. We caught our limit and had a great time. Coming into dock we were boarded by the Fish and Wildlife agents and they found Matt's boat and fish to be in perfect compliance on their safety inspection. A good thing to know if you are considering hiring a captain. We will return!
–Scott B.
Half day fishing trip with Captain Mike
We had a fun day catching many different species of fish. Captain Mike is very knowledgeable about the species of fish and where they are located. We caught enough fish to feed us for days. Captain Mike even put us on some sharks. We caught a few of them. All in all this was an amazing trip and if you're ever in Galveston you need to book a trip with him! You'll not be disappointed!!!
–Elizabeth S.